Pioneering Spirit Alive and Well at Arazzo on Madison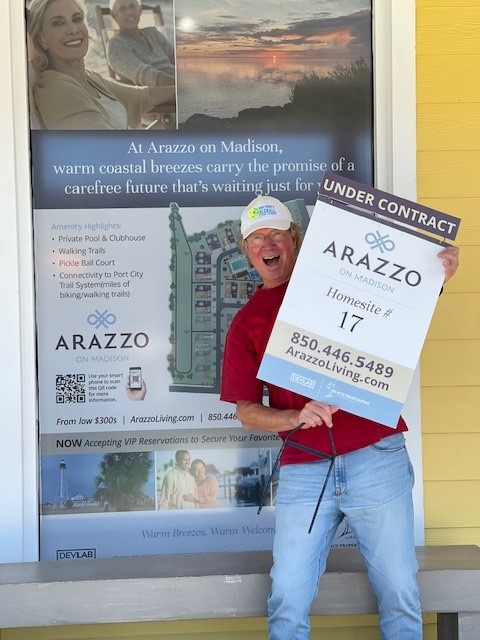 As the very first contracts cross our desk at Arazzo on Madison, we feel compelled to tip our hats to this initial collection of future neighbors – all imbued with a bold pioneering spirit. With a target market of active adults, we are both honored and humbled by this early success. It's something extraordinarily special to be selected as the site of one's forever home, and we don't take that distinction lightly. As word spreads of Arazzo on Madison, we're attracting homebuyers from all around the Florida Panhandle and as far as the Midwest– drawn here by the beauty of the area, the innovation and simplicity of our homes, and the value of living in a relatively quiet and untouched corner of the Sunshine State at Port St. Joe.
While Arazzo on Madison takes pride in being a community unlike any other, we are built upon a solid foundation of success thanks to our highly lauded development and construction team. Our developer – Atlanta, GA-based DevLab Partners – specializes in the creation of high-quality residential opportunities in charming, unspoiled locations. Its stakeholders have had a hand in the development of amenity-rich communities, stylish townhomes and adaptive re-use projects throughout the South. Add to that our talented homebuilding partner in Bent Pine Construction. Staying true to its tagline "Quality is Our Cornerstone," Bent Pine has been a leader in residential and commercial construction in Northeast Florida, Southeast Georgia and South Carolina since its launch in 1975. With a second generation at the helm of this family-owned, St. Mary's, GA-based company, Bent Pine is well-known for its attention to detail and dedication to homeowner satisfaction.
But Don't Just Take Our Word for It…
"I chose Arazzo because I can be carefree without having to worry about maintenance which leaves me more time to enjoy life! I love the concept of being in an active adult-style "inspired" community where I can enjoy socializing with my neighbors, pickleball, the trail, and the swimming pool when my grandkids visit. I am retired and enjoying life and can't wait to move to the area and snorkel, kayak, be outdoors, and do so without having to worry about upkeep on my home!" ~ Pioneering Arazzo on Madison Future Resident, Mr. Johnson